Time again for the
19th Annual
Bill Steckis Free Baseball Clinic!
Sunday, April 8th, 2018
Following the Creighton game at TD Ameritrade as they face Butler

Important Note - NO CLEATS are allowed at TD Ameritrade!


About the Free Clinic

The Bill Steckis Free Baseball Clinic for Kids has grown into a unique tradition for the youth of the Metro area. Kids have grown up knowing they can count on having an annual free baseball clinic that is conducted by former professional baseball players, head high school coaches, and the Creighton Baseball Team and staff.

It has grown into the LARGEST CONTINUOUSLY RUN FREE BASEBALL CLINIC FOR KIDS IN THE COUNTRY!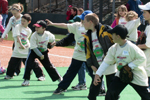 The message from Bill Steckis to the youth of the Metro is always compelling and on point. Do the right thing and respect the game as well as all the people around them.

The clinic not only helps kids learn about the game of baseball, it gives them a solid example that giving back to the community is something that anyone can accomplish. And it's a day for the entire community to join forces and give back to the Metro's kids.

• How to Register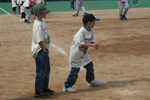 All kids must pre-register for the event by filling out an application form. Here are 3 ways to do it:
(1) You can register for the clinic online, by CLICKING HERE and going to our registration page.

(2) You can download and print out a PDF versionof the brochure brochure. (The New 2018 brochure will be ready to download in a few days). If you don't have the reader, you can get it from HERE. Then send the form to:

BILL STECKIS FREE BASEBALL CLINIC
7517 Drexel St.
Omaha, NE 68127

For more information, you can call the
Clinic Hotline at 402-290-7221.


• Clinic Information

WHEN: NEW DATE - Saturday April 8th, 20 minutes following the conclusion of the Creighton baseball game vs. Butler
WHERE: TD Ameritrade Park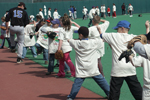 WHAT: Kids will receive a free t-shirt and free instruction by former pros, area high school coaches and the entire Creighton team. They also get free admission to the CU game that day.The clinic will include base running, pitching, catching, infield, outfield, and hitting.

WHO: Boys and Girls, ages 7 to 15

Parents are welcome to watch the entire event. All area baseball coaches of any level are welcome to watch and learn from drills that instructors will conduct during the clinic to help them further their skills as a coach.

COST: Absolutely FREE!!!


We look forward to seeing you at the clinic!!!
Page Design and Hosting donated by John Lortz at DiscoverSkills to support Bills great mission